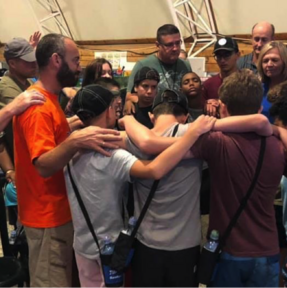 Olive Tree Ranch - At-Risk Children



Greetings, Happy Feast of Trumpets and Shana Tova!

Shaked (20) has only half a year left of his military service(!), serving as a squad sergeant. Total mandatory service time is 2 years and 8 months. His infantry recon unitis on call for "situations." So we are more attuned thannormal, to any occasional tension along the borders with Gaza, Lebanon, Syria etc.
Yoav (18) is having some of his art put on display in a local college gallery. He is working part time in gardening and landscaping until his army service gets resolved (He has requested exemption). Yoav accompanied David on a great 2 week teaching seminar for young adult Israelis, at the end of the summer.
Noam (15) started 11th grade. He is advancing in Arabic and biology studies, as well as learning praise songs on guitar. Erez (13) for many months now, has been waking up early for 5k or 10k runs a few times a week.
Yair (10) is now in 5th grade, and has good leadership potential.
After recovering from a bout with pneumonia, Orit has started another year of teaching at the only Messianic kindergarten in northern Israel where she loves imparting learning, Hebrew and creativity to 17 kids.